Themed shirts were always a dreaded family tradition growing up. There's nothing a child dreads more than those tacky Christmas shirts that everyone in the family is forced to wear and, somehow, got more and more embarrassing every year!
If only my Mom had a store like Just Jen to get our shirts from!  Just Jen is a hip custom t-shirt company featuring rhinestone t-shirts, clothing, and gifts. Whether it's Christmas, a family member's birthday, or your best friend's wedding, Just Jen has just what you need. Their high quality shirts are adorned with custom rhinestones that are securely attached. I've washed mine quite a few times now and it still looks good as new!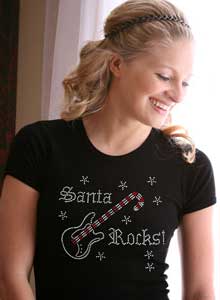 To help ring in the holiday season, Just Jen sent me their Santa Rocks t-shirt. I was really surprised by  how many options you get as far as what type of shirt you want the rhinestones to be placed on. Being that it gets a little chilly here at night, I decided to go with the fitted long-sleeve in black. The dark background really made the design pop and I've been rocking the shirt a couple times a week since Christmas is so close.
Given the high quality and personalization of all the shirts offered by Just Jen, I have to say that their prices are reasonable, as well.  Each shirt is made to order and they are high quality – don't expect the rhinestones to fall off easily like most! Most of the designs come e The Embarrassment Out Of Holiday Themed Shirts With Just Jenwith the option of over 10 shirt styles ranging from tank tops to baggy long-sleeves. Many can even be placed on the back of a pair of underwear or on some comfortable sweat pants.
This year, don't embarrass your kids – get them some holiday shirts that they'll actually WANT to wear!  For all your personalized rhinestone gifts, check out Just Jen!
Please note that I did not receive any type of monetary compensation for this review. I was provided a free sample to ensure an accurate and honest review, but all thoughts and opinions expressed are my own.